| | | |
| --- | --- | --- |
| Mobile Viewing of this site is now automatic! | | |
---
Bradley County Schools
Common Core Coaches
2013-2014
Selected by the Tennessee Department of Education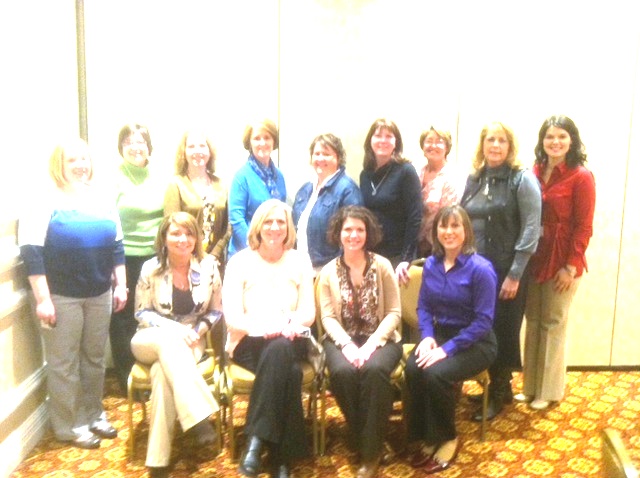 Front row (seated- left to right):
Name: School/Position Common Core Coach assignment:
Dawn Mull Hopewell Elem / Instructional Coach ELA grade 3
Elaine Policastro Ocoee Middle / 6th gr Math teacher Math grade 6
Heather Byrd Park View Elem / Instructional Coach Math grade 3
Amber Caldwell Walker Valley HS / Algebra II & AP Calculus teacher Algebra II
Back row (standing – left to right):
Jennifer Harrelson North Lee Elem / 4th grade teacher Math grade 4
Lori Raper Prospect Elem / 4th grade teacher Math grade 4
Julie Mitchell Lake Forest Middle / 7th gr Soc Studies teacher Literacy Soc Studies gr 6-8
Sherry Shroyer Taylor Elem / Principal Content Reviewer
Debbie Shroyer Taylor Elem / 2nd grade teacher ELA grade 2
Denise George Valley View Elem / Instructional Coach ELA grade 2
Luann Carey Bradley Central HS / Agricultural Science teacher Career Tech Education
Kim Covington Ocoee Middle / Instructional Coach Literacy Soc Studies gr 6-8
Elizabeth Kaylor Lake Forest Middle / Instructional Coach ELA grade 7
---
| | |
| --- | --- |
| | Bradley County Schools drives buses 3600 miles everyday to pick up our students for school. |
---
Each year the Tennessee Organization of School Superintendents (TOSS) selects and honors a Tennessee Superintendent of the Year. TOSS proudly announces the selection of Bradley County Schools Director Johnny McDaniel for Tennessee Superintendent of the Year for 2013. Mr. McDaniel will represent Tennessee in the National Superintendent of the Year Award. The American Association of Administrators (AASA) and Aramark sponsor the National Superintendent of the Year Award that will be presented at the AASA National Conference on Education.
Congratulations Mr. McDaniel !!!!
---
2012 District Report Card Comments
The Tennessee Department of Education has released its annual report card to reflect progress in K 12 education for the 2011 2012 school year. This includes district and school level data on achievement and growth.
Tennessee has created its own accountability system which replaced the Adequate Yearly Progress (AYP) accountability measures under No Child Left Behind. The new system of accountability focuses on ensuring growth for all students every year and closing achievement gaps by ensuring faster growth for those students who are furthest behind.
" Bradley County Schools has many reasons to celebrate." stated Angie Gill, system data analyst and testing coordinator. In academic achievement Bradley County schools received a "B" in grades three through eight math, reading/language and science. A grade of B is equivalent to the state-level grade in these categories. Bradley County Schools received a grade of "A" in social studies which is above the state grade. The system also received an "A" in writing for grades five, eight and eleven which are the only grades scored in this category. All core courses are taught by" highly qualified" teachers which is reflected in the report card.
---
2013-14 District Calendar Approved By Board
See It
---
BRADLEY COUNTY SCHOOL DISTRICT RECEIVES FUNDS TO PROMOTE COLLEGE ACCESS AND SUCCESS
Cleveland, Tennessee (October 18) – The Tennessee Higher Education commission announced today that Bradley County Schools is the recipient of a $846,300 grant over the next seven years to provide services to students and families with the aim of increasing enrollment and success in postsecondary education.
The funding is through Gaining Early Awareness and Readiness for Undergraduate Programs (GEAR UP), a U.S. Department of Education grant program to increase the number of low-income students enrolling and succeeding in postsecondary education. The Tennessee Higher Education Commission secured the state grant for GEAR UP TN and selected sites through a competitive application process. Bradley County Schools is one of sixteen counties receiving funds.
"The GEAR UP TN Grant will provide much needed support and resources for our students as we strive to prepare them to be college and career ready," stated Johnny McDaniel, Director of Bradley County Schools. "It will also help us foster the hopes and dreams of our students and their families beyond high school. We believe all students deserve access to post secondary education. We are excited about the opportunities the GEAR UP TN grant will provide for our students."
Patti Hunt, Grant Coordinator, stated, "The GEAR UP TN Grant is a perfect fit with the post secondary goals and objectives we are implementing in Bradley County Schools. Growing a "post secondary culture" in our community will provide open doors and opportunities to all our students and make them a marketable workforce to business and industry coming into our community and surrounding area," concluded Mrs. Hunt.
The Bradley County School District will form a local, community-based GEAR UP TN Collaborative to provide college access and success-focused services to students at Lake Forest Middle School, GOAL Academy, and Bradley Central High School. Students in the Class of 2018, who are currently in the seventh grade, will receive services as a cohort through middle school, high school, and their first year of postsecondary education. Seniors at participating GEAR UP TN high schools will also receive direct services to prepare for college and apply to postsecondary programs. Services include one-on-one mentoring, tutoring, college visits, and finanacial aid counseling. The grant also provides for each county to hire a local site coordinator to work directly with students and oversee local implementation. Statewide services, provided to all Tennessee students, will include a public outreach campaign and a college access and success website, CollegeforTN.org.
Each GEAR UP TN Collaborative includes formal partnerships with at least one middle school, one high school, and a higher education institution, a local board of education, and at least two community-based organizations. Partners will provide a mix of in-kind matching and additional funding to ensure that the Collaborative continues beyond the seven-year grant. Bradley County Schools' GEAR UP TN Collaborative will partner with Cleveland State Community College, Lee University, Bradley County Board of Education, Oasis Center, Centers for School Climate and Dropout Prevention, Bradley/Cleveland Public Education Foundation, tnAchieves, and Chattanooga Public Education Foundation (PEF). The list of services that will be provided by each partner are: Cleveland State Community College – Grade Appropriate college Awareness Programs, Junior Seminar, Parent Workshops, Tutoring & Mentoring, Scholarships/with tnAchieves at Bradley Central High School, Dual Enrollment, Summer Camp; Lee University – Summer Residential Math Camp for Rising 9th graders in 2015, Summer Residential Math Camp for Rising 10th graders in 2016; tnAchieves – Last-Dollar Scholarship and Mentoring Program, FAFSA Days; Oasis Center – Professional Development Training and Consultation; Center for School Climate and Dropout Prevention – Assessment and Training Support; Bradley County Public Education Foundation – Raising Community Awareness, Financial Support for the Collaboration; Chattanooga Public Education Foundation – Professional Development with Director of College Access and Director of Data & Research.
This is Tennessee's second GEAR UP grant. The 2012 award follows the implementation of a successful 2005 GEAR UP grant which resulted in a 22.8 percent increase in college-going rates in nine participating school districts. Tennessee was one of seven states awarded a competitive 2012 GEAR UP grant.
The counties receiving funding in the current GEAR UP TN program are: Anderson, Bradley, Campbell, Claiborne, Davidson/Metro Nashville Public Schools, Grainger, Hancock, Hardeman, Haywood, Henderson, Johnson, McNairy, Robertson, Shelby/Memphis City Schools, Union, and Wayne.
For more Information, please contact Patti Hunt, Grant Coordinator, Bradley County Schools at 423-476-0620 or phunt@bradleyschools.org.
About GEAR UP TN
GEAR UP TN is a movement in local communities to expand the college-going culture in Tennessee and empower students to succeed. Funded through the seven-year grant from the U.S. Department of Education and administered by the Tennessee Higher Education Commission, GEAR UP TN works with community-based Collaboratives in 16 counties across the state to promote college readiness and success. Between 2012 and 2019, GEAR UP TN will provide over $15 million in funding for direct services, including mentoring, tutoring, college visits, and financial aid counseling, to provide Tennessee students with a clear path to college.
---
Affordable Health Care Comes to Bradley County Schools; Ronald McDonald Care Mobile
---
Check out our new section on Community Resources.
---
Bradley
County Schools and WCLE 104.1 would like to salute teachers who "make a difference". This month, we want to hear your stories about great teachers who have made a difference in your life. Please share your stories with us online!Click the photo to tell us your story.
(Stories may be featured on WCLE 104.1 and/or highlighted at the beginning year in-service for Bradley County Schools.)
---
Honoring excellence should never be an option; it should be a given.
---
Bradley County Schools Coordinated School Health Program Draws National Attention
---
Take a look at the great programs available through the BCS CTE Department
Please visit the program links to view information about all the outstanding programs offered by the Bradley County Schools Career and Technology Department.

Bradley Central High School
Think CTE Logo

Walker Valley High School Think CTE Logo
---
| | |
| --- | --- |
| Visit Read Tennessee, a joint project designed to allow teachers, families and community members to work together for the benefit of young children throughout the state of Tennessee. We encourage you to explore the website to take advantage of the information provided to help accelerate the learning of Tennessee's most important resource, our children. | |
ReadTennessee.org is proud to announce our companion website, MathTennessee. Working in tandem with ReadTennessee.org, MathTennessee is an invaluable resource for teachers, parents and community members to advance Math Education for students in grades K-3 throughoutTennessee.
---
Mission Statement:
The mission of the Bradley County School System, in partnership with parents and the community, is to develop a literate, self-confident, creative and responsible citizen who can meet life challenges and who values life-long learning.
Vision Statement:
Bradley County Schools will be a welcoming center of educational excellence committed to total student development utilizing data-driven, research-based strategies.
Certain documents on this site require Adobe Reader